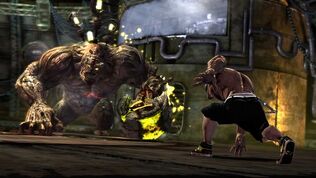 The sixth phase in Splatterhouse (2010).
Description
[
]
"Rick begins to lose himself to the pleasures of blood and spit, and that little voice in his head knows it is winning. A monster haunts West Mansion. In West's laboratory an ambush is sprung, and a trapdoor is opened, Rick falls."
Transcript
[
]
Terror Mask: Phase Six: Beast With A Human Heart.
Terror Mask: No, I know you; I know what you really are. I can see the real you...
Rick: So what is it you think I 'really am'?
Terror Mask: *Oh* You're a killer.
Rick: No: I'm doing this for Jen.
Terror Mask: Oh come on; it's not just what you do, it's who you are. You've always been a killer - in another life, in another game. You've always known it, felt that urge; you just tried to bury it. You've been wearing a mask your whole life. It's time to embrace it; this is who you really are...
Rick: You're wrong...
Terror Mask: Am I?
Terror Mask: Getting kinda good at this now, Rick-o. The sound of bodies bursting, the feel of flesh tearing in your hands. *OH* Admit it: the power, the strength - you like it, don't ya? *Don't ya?*.
Rick: Yeah - no *no*! You're confusing me - I can't think!
Terror Mask: *Oh* You don't need to think Rick; that's what you got me for buddy.
Terror Mask: So much suffering; It's beautiful. Kill it.