"Let's make a mess, what do you say?" - Terror Mask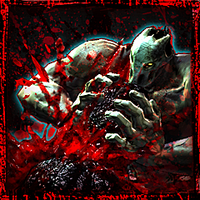 A unique animation and ability in Splatterhouse (2010). When a creature is close to death, it will be highlighted with a red glow in which Rick can grab the creature to start a quick-time-event that, if done right, will show Rick kill the creature in a gory animation. If Rick fails to do the execution correctly, the enemy will knock Rick away. Then, the creature partially recovers and need to be weakened again.
Trivia
[
]
While performing a Splatterkill, other creatures can try to stop Rick. However, Rick is immune to all damage during these animations.
Each creature type has two of it's own animations (Except the Homini wich has no animation and the Abhores, Teratoids, Aegises and Beasts which have only one animation).
Biggy Man is the only enemy that has a weapon used in two of it's Splatterkills.
Gallery
[
]